LUXURY VENUE IN LONDON
Victoria & Albert Museum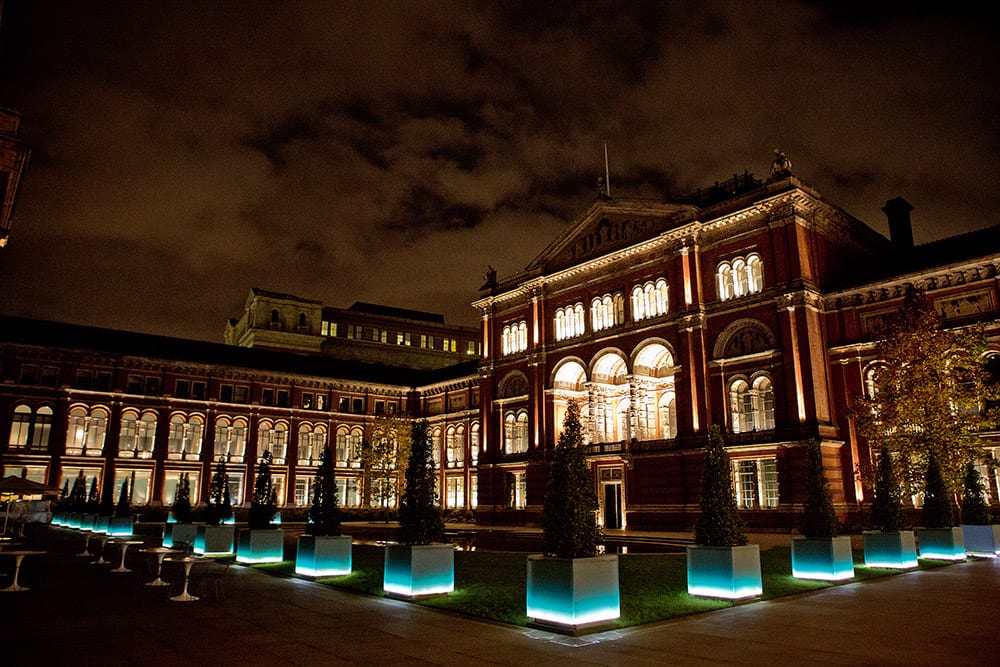 Founded in 1852, and opened by its namesake Queen Victoria five years later, London's Victoria & Albert Museum is best known as an internationally recognised showcase for artists and designers. However, the sumptuous architecture of its hallowed halls also marks it out as a space for luxury events like no other.
Conveniently located near South Kensington tube station, the Grade I listed museum's reputation for luxurious decor cannot be overstated. Few other London wedding venues can match the V&A's history, its 2.3 million-strong collection boasting items which are over 5000 years old, as well as iconic examples of 20th century fashion and design.
The Victoria & Albert Museum is also one of the most unique wedding venues London has to offer; V&A wedding receptions can be hosted in a number of spaces within the museum, including its gorgeous garden. The museum also has a selection of spaces for private and corporate events, with capacity ranging from 40 to 600 guests. Contact us today, and let Snapdragon help you choose from the museum's array of events spaces.
SCHEDULE AN APPOINTMENT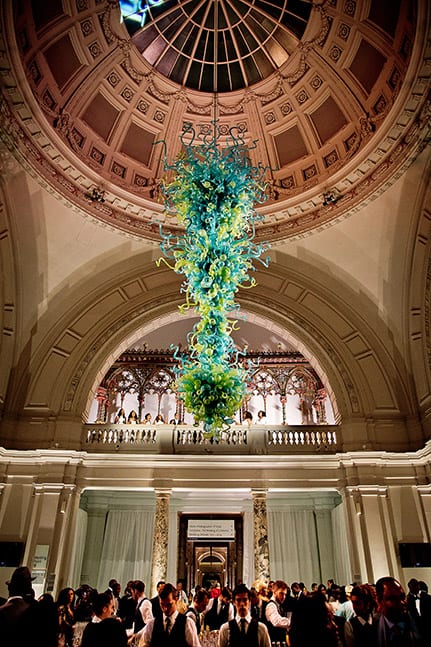 Host an unforgettable V&A wedding reception
The venues within the Victoria & Albert Museum are ideal for any style of luxury wedding reception; from a simple standing reception to dinner and dancing, this one-of-a-kind London wedding venue has it all.
If the weather is wet, drinks can be held in the Dome. But if it's dry, the John Madejski Garden is ideal. A lavish outdoor space complete with fountains and 19th-century clay tiles and mosaics, the garden was completed in the 1880s and redesigned in 2005.
The John Madejski Garden opens out from the Dorothy and Michael Hintze Sculpture Galleries, a gorgeous mosaic floored dinner location which can seat up to 100 guests. Those hosting a large dinner can opt for the Raphael Gallery.
These two spaces hold 250 and 400 guests respectively, with the former boasting a striking glass sculpture suspended from the dome ceiling which gives the room its name. The Raphael Gallery is the largest dinner space in the museum. Its name is taken from the 16th-century drawings by the Renaissance artist which line the walls. Both of these spaces, as well as the Dorothy and Michael Hintze Sculpture Galleries, are licensed to be open until 1am, with the option of extending the license to much later, giving your guests ample time to celebrate in style.
view our portfolio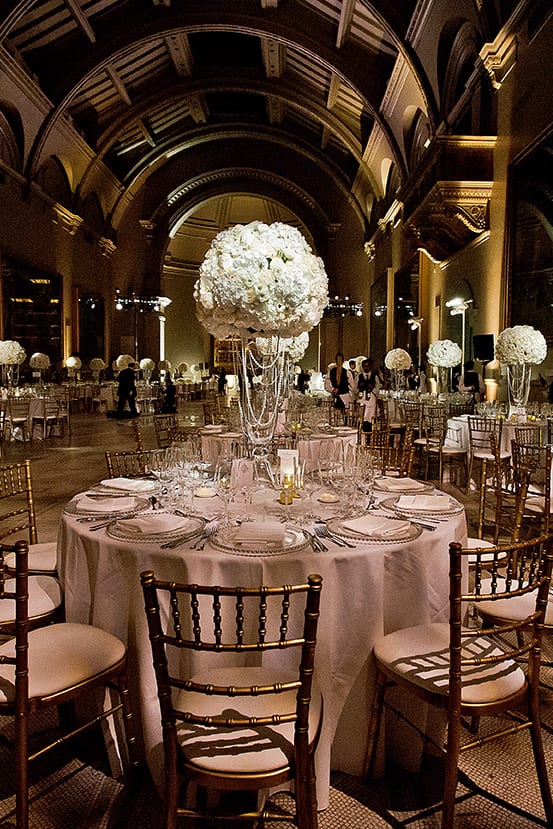 Choose from the V&A Museum's nine London event venues
Events at the V&A can be held in any of the four spaces mentioned above, as well as an additional five galleries and rooms. These spaces are home to some of the museum's most acclaimed collections, from the Medieval sculptures and architecture of the Paul and Jill Ruddock Gallery (which can hold up to 250 guests) to the grandeur of the venue's Fashion Galleries.
For those looking to be surrounded by some of Europe's finest works of art during their luxury party, the 200-capacity Edwin And Susan Davies Paintings Galleries are the ideal London event venues to suit your needs, with works by Constable, Turner and Blake on display. The Whiteley Silver Galleries, meanwhile, can accommodate 250 guests, and offers a magical collection of 1500 priceless pieces of silverware.
For more information about any one of these London party venues at the V&A, contact Snapdragon today with the specifications of your event. Whether it's a small reception or a lavish party, we can organise your next luxury event exactly as you want it.
meet the team
What they say
"The organisation and attention to details have been of the highest standards. The Snapdragon team provided excellent service and support."
Sally - Wedding