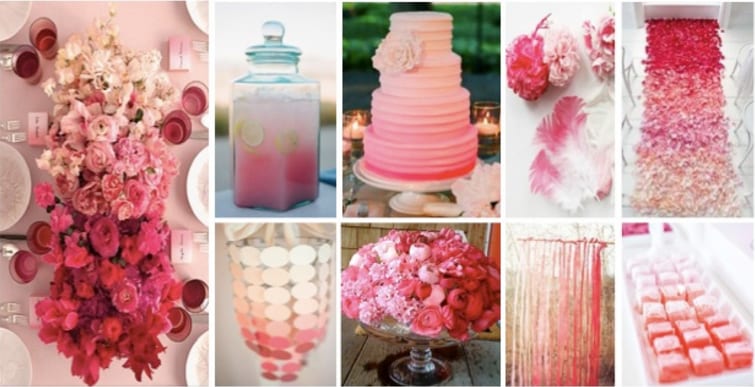 Ombre Wedding Styling
Wedding styling is becoming more reliant on layering interesting textures and incorporating oodles of colour. Ombre (äm-brae), which is the French word that refers to a colour graduating from light to dark, is a popular way of subtly incorporating multiple shades of colour within one's wedding day.
Ombre cakes and fashion were particularly trendy last year and we suspect the popular trend will continue throughout 2014 but being utilised across more components of the day.
An Ombre palette brings elegance and sophistication, underpinned with a softness to your celebration. Choose your base colour and then simply use different shades of it within your styling. You can choose from a soft pastel through to a rich jewel tone. The choices are endless.
Blue: You won't have any challenges finding your 'something blue' using this palette.
Turquoise: Perfect for a destination wedding outside by the Mediterranean sea.
Purple: Rich tones create a vibrant statement whilst lighter shades will result in a softer, more romantic look and feel.
Orange: Delicate coral peaches are perfect for spring whereas darker shades of orange create a warming autumn celebration.
Yellow: Citrus yellows create a fresh, delicate but fun look.
Pink: From crimson to fuchsia there are endless possibilities within the pink spectrum.
Just remember that it can be easy to go overboard with an Ombre palette – so avoid overkill – and remember less is more!
By Julia Dowling
---