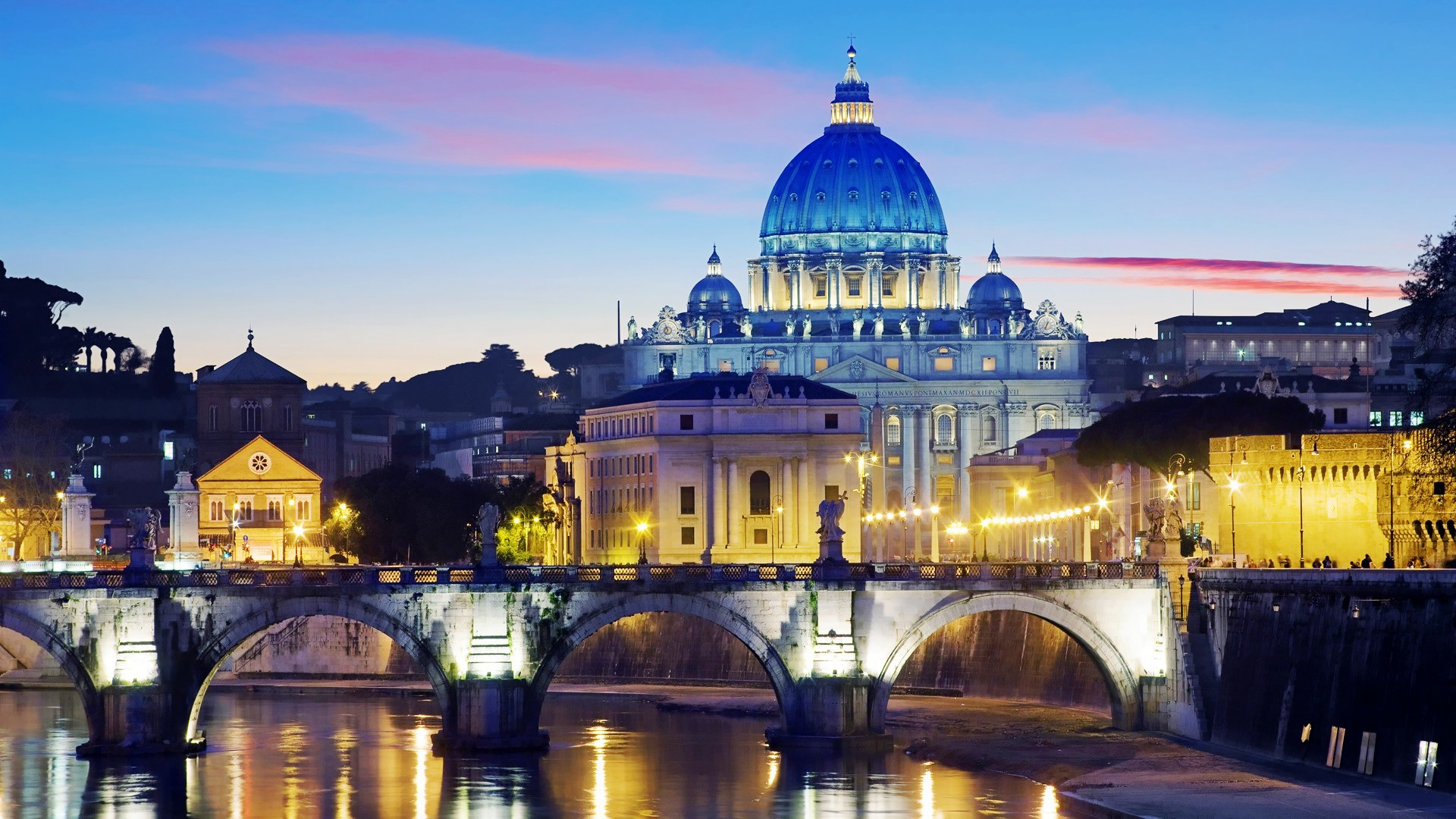 Luxury Destination Weddings & Dreams
If you are looking for a fabulous wedding destination, then one of the most romantic locations in the world is Italy. Italy is one of the chicest destinations, with its idyllic weather you will have no problem finding a perfect location for your wedding. Venice of course is one of the most captivating cities with scenic splendour and historical elegance and beautiful architecture. Venice has outstandingly beautiful rooftop terraces with amazing vistas across the historic city, resplendent ballrooms and alfresco verandas characteristic of 18th century Venice, where you can celebrate your wedding in elegance and sophistication. The Castello Quarter, Rialto Bridge and St Mark's Square celebrate the real Venice, your wedding will have total Venetian refinement.
The beautiful city of Rome, the Eternal City, Italy's capital is the perfect backdrop for an Italian wedding where you can exchange your vows in historical charm, where 'fine art' loving couples will be surrounded by master pieces, frescos and iconic sculptures, exploring its artistic treasures, perfectly capturing the grandeur and breath-taking monuments and historical cathedrals, Rome is a cosmopolitan and vibrant city for the contemporary couple to say "I do" in.
Stepping back in time to the truly romantic town of Verona, the birthplace of Shakespeare's enchanting love story between Romeo and Juliet. Verona is the city of eternal love and one of the most picturesque and enchanting locations that runs alongside the river Adige. The centre of Verona is a delightful place that you can only discover on foot, so wandering the picturesque, cobblestoned streets you will feel the tranquil ambiance while appreciating the remarkable medieval and Renaissance palaces and its charming Italian warmth.
Positano is the jewel of the Amalfi coast and in the heart of Positano are beautiful 18th century buildings surrounded by charming botanical gardens, a picture-perfect retreat for a romantic dream wedding. Moorish style houses set in a panorama of primrose, white, green and yellow washes established in a pyramidal townscape, rising from the Spiaggia Grande pebbled beach and clear blue sea. This picturesque idyllic village is a beautiful and romantic location with stunning coastlines and a traditional sense of hospitality. Positano also has a sophisticated side to it with luxurious hotels, restaurants and bars making it a perfect place to get married.
And last but not least, getting married by one of Italy's prominent lakes, Lake Como, this is unquestionably a spectacular setting with clear azure waters and breath-taking mountain views for a picture-perfect wedding. Nestled in the hills and along the shoreline are majestic villas and restaurants serving sophisticated cuisine, with spectacular lakeside venues offering rustic and contemporary ceremonial locations. On the shores of the lake are many picturesque villages and towns, such as Varenna the medieval town framed in green forested hills and misty blue waters, Cernobbio with its romantic promenade walk along the lake, beneath the snowy alpine peaks reflected in the lake to stunning effect and Bellagio with its quaint elegance, cobbled streets and shuttered windows. And who said it would not be possible to hold your ceremony on Lake Como, on a completely exclusive and secluded island only accessible by boat, this will delight your wedding guests, surrounded by superb panoramic views, and will establish your perfect destination dream wedding.
The enchanting city of Marrakech is an alluring destination and a magical locality for an exclusive destination wedding and is recognised as a distinct haven amid the magnificent snow-capped Atlas Mountains and the rolling dunes of the Sahara Desert. The breath-taking vista and countryside is lush in olive groves, dated palms and citrus and rose trees, this enchanted and tranquil setting offers exotic, opulent and exquisite locations around Marrakech. Age-old Riads are historic and atmospheric with stunning fountains and intimate landscaped courtyards with lavishly decorated interiors in rich tones and silks, lazing on a daybed next to candlelit brass lanterns and scented jasmine trailing down the walls, this relaxing atmosphere and calming retreat makes Marrakech an incredible romantic setting, with perfect weather and fabulous local culture, state-of-the-art luxury and ancient history merging flawlessly. Marrakesh with its honeycomb of intricately linked alleyways is packed with souks selling leather goods, rugs and Berber carpets created by skilled craftmanship to sell in the marketplaces, if you are interested in a bit of haggling then this is the place. Cacti gardens like the Majorelle and Menara Gardens, are filled with exotic flora and plants, bamboo and palms, were you can stroll round the pathways and ponds filled with lilies, these enchanting gardens are an oasis of calm and tranquillity. Marrakesh has an historic wealth of Moroccan Royal Palaces built with lavish materials, and imposing mosques with architectural scalloped arches and intricate carvings, hearing the call to prayer ringing through the air at sunset is as romantic as it gets. This historic and vibrant city is a perfect setting to have your nuptials and celebrate with family and friends, this destination is ideal to celebrate over several days, making certain the magic of your wedding lasts.
The Cote d'Azur is chic and cultured, with Saint-Tropez and Cannes on the Mediterranean coast being ideal for your exquisite wedding ceremony. The South of France is celebrated for its beaches and panoramic vistas, and the jewel of the Cote d'Azur, the Esterel Mountains. Planning an incredible wedding experience, in a fascinating medieval town at a Fairy-tale Chateau or magnificent castle, historical monument or on a fabulous luxury yacht will find you creating perfect memories. Nestled in the hills over Cannes are the most luxuriously wedding locations where you can enjoy a cocktail reception on the terrace of a Château with breath-taking views of the Côte d'Azur. Unique and secluded wedding spots in the South of France are bursting with romance, your wedding will be an experience you will cherish always.
Paris, one of the most passionate cities in the world, planning an elegant Parisian wedding in the cultural heart of France is a perfect choice. If you are looking to marry in a prestigious Parisian hotel with unique luxurious decor, an enrapturing and romantic rose scented garden that is enveloped in charm and romance, or among the magnificent and inspiring sculptures and paintings in Paris's The Musee Rodin, the prominent neoclassical Chapelle Expaitoire, then this cool and chic city has it all. From incredible gothic cathedrals to quaint artisan cafes, Paris is without a doubt a captivating place. The most romantic Parisian landmarks like the Eiffel Tower and the gardens of Notre Dame and the charismatic cobbled streets of Saint Germain-des-Pres will add to the pure indulgence and quintessential French luxury, perfect for your wedding dreams to come true.
What could be more romantic than being piped into a reception venue than by a Scottish Piper in full regalia, hosting a luxury wedding in a Scottish castle that is immersed in history, this would be a perfect setting for a fairy-tale Scottish wedding. From the historic town of St Andrews, the place where Kate and Wills love story began, at St Andrews University. If you are seeking a romantic and historic location, with a striking background, then the university of St Andrews is the perfect venue, from the majesty of St Salvator's Chapel to the notable style of the Upper and Lower College Halls. You could choose to get married in one of St Andrews historical churches and chapels or ancient castles, the perfect place to exchange your vows.
The Isle of Skye, 'The Misty Isle' as it is romantical known, with its iconic landscapes like the Black Cuillin hills and mountains and the shimmering Loch Coruisk that delivers a stunning backdrop to a blessing, enjoying the peace and tranquillity of this famous panorama with its epic mountains, waterfalls and fairy pools, this wild and beautiful island will take your breath away. Known for its craggy landscapes rich with geological features, miles of spectacular coastline, scenic fishing villages and brooding medieval castles, experiencing a traditional Scottish wedding in this stunning location is like something out of an atmospheric narrative you think you can only read about, but experience for real in this once in life time opportunity.
Edinburgh has a history and heritage spanning back to the 13th Century, with picturesque and romantic locations providing the perfect setting for a wedding, with incredible backdrops, superb architecture and unparalleled history, many Scottish castles adorned with turrets, grand staircases and coats of arms, delivering medieval grandeur and atmosphere, celebrating your reception breakfast in a lavish banqueting hall. Other unique locations to celebrate your nuptials are The Royal Botanic Gardens, The Signet Library, Edinburgh castle, Royal College of Physicians or the iconic Waldorf Astoria all these venues are unique and timeless historical places to celebrate the most special day in your life. For a couple looking to celebrate in a chic contemporary way, then the heart of Edinburgh has fabulous venues, The Dome, the opulence of this building is outstanding with cascading crystal chandeliers and impressive stained-glass windows, The Penthouse with panoramic views of the city skyline and The Hub with its lively interior design, cool illumination and colour scheme for a chic city wedding. Scotland is a beautiful and historic country.
St Kitts, Nevis and St Lucia are beautiful islands in the Caribbean Sea, they have the most beautiful sparkling white sandy beaches and emerald green waters, their unspoilt beauty is part of their natural charm. These islands are lush in greenery and have a vibrant Caribbean culture. Saying 'I do' with a warm Caribbean breeze on a perfect sandy beach, your wedding march being played on steel drums offering that vivid west Indian vibe, all adds to a touch of tropical romance. St Kitts is one of the more luxurious islands in the Caribbean, with volcanic mountains and coral reefs to explore, lush vegetation, stunning ruins, picturesque gardens and glistening black and golden sandy beaches. Nevis is more laid back with long stretches of unspoiled beaches, jade green waters and ancient hot springs, where you can immerse yourself in the Caribbean culture and leisurely pace of life, it has an essence of tranquillity. Both these islands possess a vast natural beauty. St Lucia is a quintessential beach resort with immaculate silver white beaches and emerald green water, saying your vows in an ocean front gazebo or amongst lush greenery in a garden setting in this tropical paradise, sharing your breath-taking moments with your guests, this is a perfect get away for a destination wedding.
Bora Bora, a stunning island showcasing beautiful soft sandy beaches, ocean vistas and exquisite tropical fish in crystal clear waters, enjoying the luxury of relaxing beneath tropical palm trees and aromatic brightly coloured Hibiscus. A Polynesian ukulele playing while you walk along the sandy beach under a warm Tahitian sun creating wonderful memories in this dreamy landscape. This idyllic location in French Polynesia where you can step out of your bungalow into crystal blue waters of the Pacific. Announce your promise to always love each other on a pristine coral beach with Polynesian music being played on seashells and drums or make your vows across a turquoise lagoon in a peaceful island chapel with flower petals strewn on the ground as you walk down the aisle, a dream location for a tropical wedding destination.
Costa Rica with its natural splendour, this environmentally conscious country is unique for its precious tropical rainforest and pure mountain air as well as its golden beaches and spectacular views of the Pacific Ocean. A wedding filled with special moments at this tropical destination, listening to the rich symphony of the tropical birds creating the flawless natural sound effects on your special day. Bare foot on the beach is simple yet elegant and creates a romantic ambience with sun setting slowly over the Pacific as a backdrop for an idyllic beach ceremony promising your love and commitment. There is something magical about a lush tropical rainforest, with spectacular waterfalls, exotic orchids, tropical flowers and birds, gentle tropical breezes, this dreamy scenario could be your wedding destination.
Credits: Tourradar, Robert Fairer, Hand Luggage Only, Royal Mansour, Bebaltour, Joey Kelly, Eilean Donan Castle, St Lucia
---