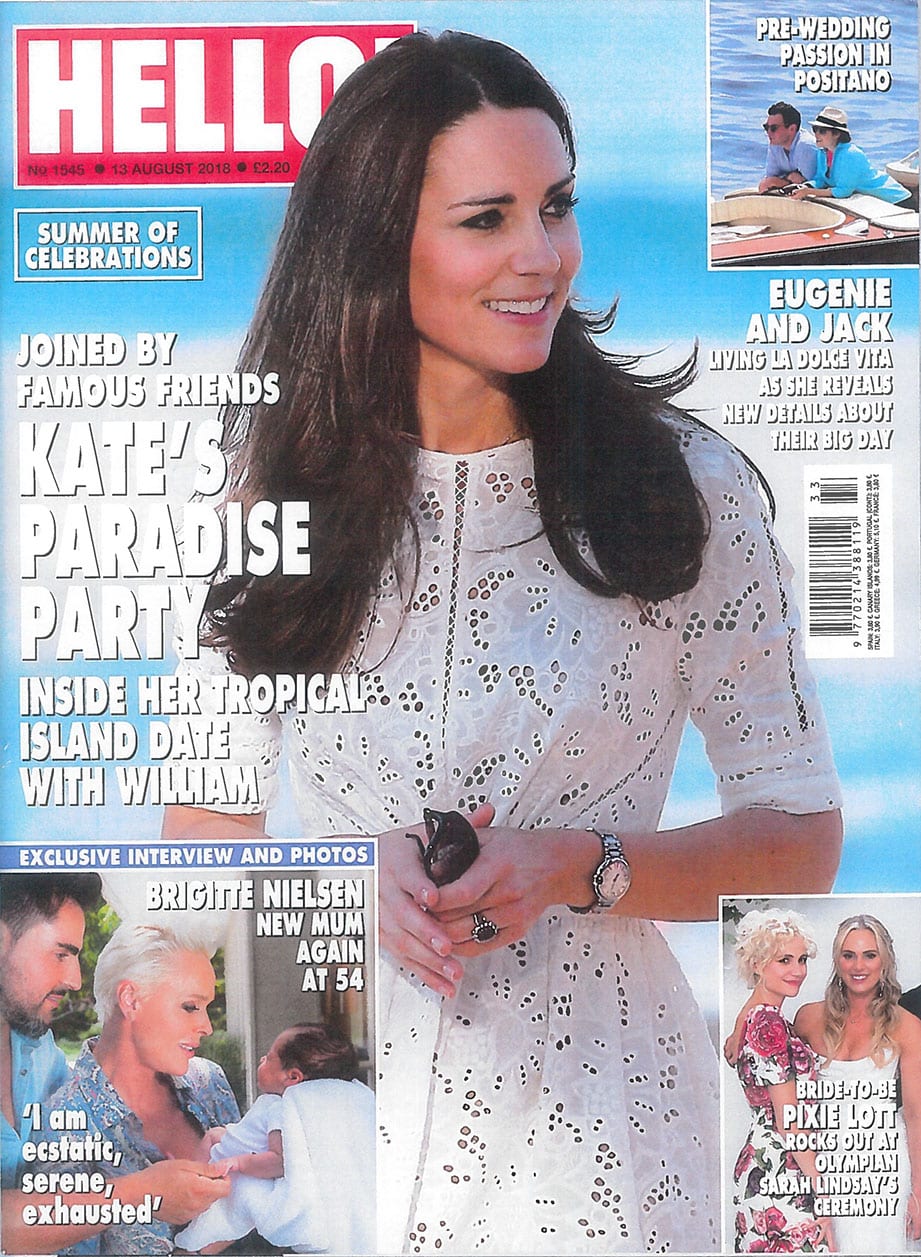 Snapdragon plans Sarah Lindsay & Rich Phillipps Wedding as seen in Hello! Magazine – Interview with the bride
We are honoured to have planned and delivered the recent wedding of Sarah Lindsay (three-time Winter Olympian) and Rich Phillipps (the UK's leading body transformation expert). With the success they have experienced since opening their joint business, ROAR Fitness, the couple have been living a fast paced and exciting lifestyle, with little time to focus on their impending wedding arrangements. Following the closure of their original venue choice, Sarah turned to Snapdragon for reassurance that her dream wedding could still be planned to perfection without interruption to her everyday routine and career.
Following the big day, we sat down with Sarah to reflect on her experience collaborating with Managing Director, Julia Dowling, and the Snapdragon team.
What inspired your choice to work with Snapdragon?
Before involving Snapdragon, I had managed only one preparation: booking the venue. When that one plan fell through, I too fell–into complete panic! It wasn't until I spoke with Julia that I felt I could finally relax again. I had never considered hiring a wedding planner but Julia's evident capability, experience and care in delivering a stress-free event filled me with confidence and relief.
How was your experience searching for a venue the second time around?
The closure of our original venue choice left us utterly disappointed and unable to visualise saying "I do" anywhere else. Yet, Snapdragon proved it a blessing-in-disguise, sourcing several new locations that could accommodate our concept. Sunbeam Studios provided an open space, leaving a blank canvas of endless possibility. With Julia's help as we walked from the bright marble-floored ceremony room, through to the dark-lit studio; we were able to imagine the full guest experience, styled with beautiful florals, relaxed furniture and glowing lighting.
You had envisioned the theme to display Ibiza chillout. How did you bring this to life?
From the start, we wanted our guests to feel completely at ease, as if on holiday. We introduced elements of chic Ibiza styling: poseur tables and an indulgence bar, all crisp white materials with mirrored accents.
We wanted to provide guests with a real 'WOW' moment as they made their way into dinner. Here, we constructed the pinnacle of the day, an enormous sunset that gradually sunk behind crashing waves, its golden skies darkening over the dinner service. The sunset set a beautiful and romantic atmosphere for our family and friends to soak up throughout their food and speeches. These details entirely transformed the venue, bringing our dreams to life.
How did the floral trial with Hayford & Rhodes affect your choice of colour palettes and arrangements?
When I visited the Hayford & Rhodes' studio with Snapdragon, we discussed my floral likes/dislikes and the respective possibilities available to suit my venue and budget. From our very first conversation, Joanna Rhodes was able to translate my desire for a natural and relaxed event into a number of beautiful floral arrangements. Already familiar with the venue, Hayford & Rhodes were able to complement the venue's unique features with bespoke designs that included cascading florals and foliage down staircases. Their knowledge and experience were invaluable in determining my designs. Earthy greens with hints of white and very soft pinks perfectly enhanced the informal holiday feel I wanted to achieve.
How did photographer John Nassari help you visualise the special moments you wanted to capture?
My first meeting with John Nassari was such a lovely experience. He spoke of the importance of getting to know me and Rich as a couple, fully understanding our personalities so he could tailor the experience to suit us. At our engagement shoot, we had the opportunity to get to know John better and build a comfortable environment in front of the camera. With Julia's guidance, we walked through the event together so that John was aware of any big moments we wanted capturing, including Pixie Lotte singing and guests' reactions to speeches. This really made us feel like all of our plans were coming together and we could not wait to see the finished images.
Did your personal passion for rock music influence any highlights throughout the day?
Yes, massively! Rich and I have a combined love for rock music—especially Guns 'N' Roses. We were keen to share this with our guests through subtle influences on the day. Throughout the planning, Snapdragon effortlessly picked up on our personal preferences and converted these into special touches. In one such detail, Snapdragon replaced the traditional guestbook with an electric guitar for guests to sign.  They added another fantastic nod to our passion with laser-cut escort and place cards in the shape of guitars.
Obviously, our entertainment too had to include our favourite rock icons. Our evening DJ, Matt Maurice, composed an awesome rock-inspired playlist that featured one classic hit after another. He made planning the wedding entertainment easy by taking our requests on board and even collaborating with a live saxophonist to jazz up the atmosphere on the dancefloor.
Speaking of musical arrangements, your ceremony featured classical renditions of your favourite rock songs. How did you manage that?
As Rich and I adore rock music, we loved the idea of including a string quartet in our ceremony but wanted to lean away from tradition by incorporating pieces of music which were personal to us. Working with Snapdragon was great; they sourced the quartet, had one of their talented musicians rework 'November Rain' for my procession and 'Sweet Child O' Mine' for our lovely friend Pixie Lott to sing at the closing of our ceremony. This was such a beautiful and unique touch to our day.
Did you have a vision in mind before your first make-up trial?
My everyday make-up is simple and natural, so meeting Bella Campbell I was indeed certain of the look I wanted to achieve. Nevertheless, her ability to relate to and understand her clients earned her my full confidence. I knew Bella was the perfect artist for me; her experience working with different characters coached her instant understanding of my individual style, and her ability to transform my exact beauty requirements into a stunning bridal look.
How involved were you in the design of your indulgence bar and cake?
Hugely! When we met with Marie from GC Couture, we were able to taste a selection of their delicious flavours. All of their designs are incredible which is why we decided to replace the classic dessert-during-dinner with our amazing indulgence bar. We wanted to offer guests an option between 'Guilt-free' and 'Carefree' treats and Marie was fabulous in helping us to create this, of course involving more than a few taste tests!
Do you have any final reflections, or retrospective advice you might offer a newly engaged couple?
Hire an experienced planner. They guide you expertly through the wedding planning journey, making it stress-free, fun and so very easy. Your wedding planners are everything; make sure you surround yourself with a team that truly understands and shares your passion and vision.
All Photography Credits – John Nassari http://johnnassari.co.uk
---