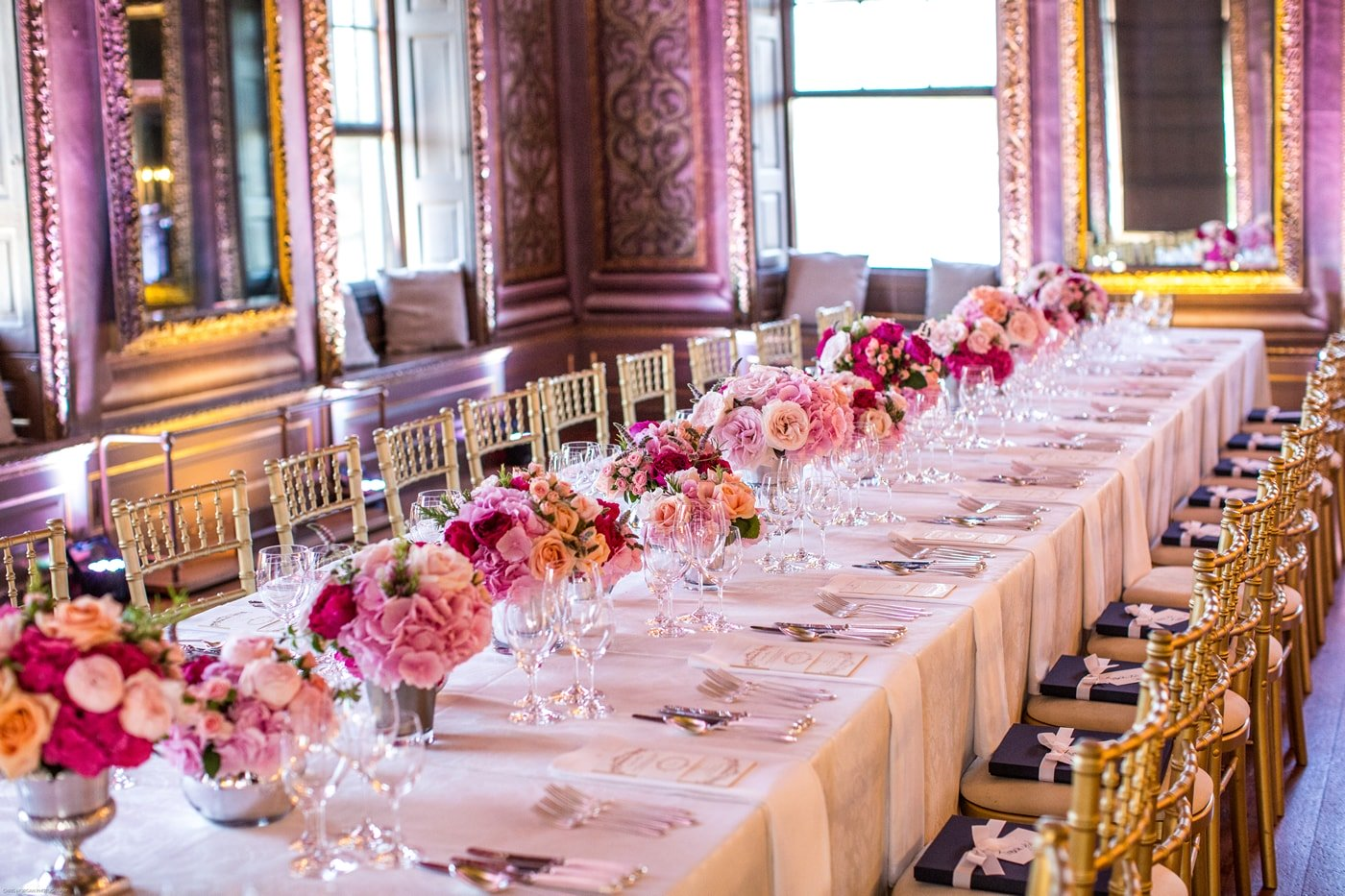 You Want to be the Coolest Couple on the Block… | 2018 Wedding Styles
This year brings the marriage of His Royal Highness Prince Henry of Wales to Ms Meghan Markle in May 2018 at St Georges Chapel in the grounds of Windsor Castle, they are planning a wonderful day that will "reflect who they are as a couple". So, attention all couples the New Year is upon us and with that comes brides planning their nuptials and with the new year comes new wedding ideas, and while we loved many looks from 2017 I think you will be ready to leap into the sphere of new wedding developments in 2018.
You want your wedding to be chic and the coolest, in 2018, couples are going to be more laid back in their attitude to planning, it's going to be less about your wedding theme and colour combination and more of establishing a vibe and atmosphere that represents you as a couple, about your personalities and passions for your big day. So, we are going to look at the industry's top wedding professionals and see what they are forecasting for 2018.
First, we will take a look at living bars which are going to be fierce in 2018, experts are saying that integrating freshly cut greenery interlaced into laser cut or lattice work with climbing clematis into the bar will set it off beautifully and be very Instagramable.
For your reception, the experts are throwing a few ideas out there to help the bride and groom choose some of the fab changes that are going to be big in 2018. Perfectly paired white and modern neutral hues and oodles of textured linens, copper and metallic elements, white and green floral décor and elegant modern marble accents, these will create a natural and organic feeling to your wedding. Marble wedding cakes with textured patterns and organic, crystallised floral compositions, and white marble accents with polished copper features will enhance openness and contrast. Hygge is becoming popular, it originated in Norway and means a haven or comfortable place, it is increasing in popularity in the wedding industry, so anticipate seeing lots of greenery, candles, woodwork and other natural touches that are related to this style.
A marble dance floor, elegant modern marble will play a significant role this year, a sensational dance floor installation using marble where the bride and groom and their guests will be stunned from the instant they arrive at the reception until they are dancing the night away. Make sure your photographer takes a fantastic aerial shot of you and your guests on the amazing marble dance floor. Talking of dance floors, music for the evening looks set to be DJ Live and High Energy Bands giving live performances alongside each other, and the requirement for live wedding entertainment is becoming bigger and the bands must be stronger and have smoother transitions with the vocalist being a powerhouse, this just adds to the vibrant atmosphere for the evening entertainment and ensures your guests are all up on the dance floor having a fantastic time.
Couples who are looking for a contemporary and architectural design in translucence can look at having their wedding breakfast in an elegant transparent or glass marquee with crisp clear views of the outdoors, it is a picture-perfect setting to bring the outdoors inside and romantic botanical foliage would be a perfect decor. Think translucence with ideas including transparent drapes, clear glass tables and ghost chairs, Lucite invites and place cards with translucent elements, Perspex seating plans, crystal chandeliers, these designs are great for cutting-edge and minimalist couples who love minimal design concepts, and one preference in 2018 will be a less-is-more style wedding.
Another innovative venue idea, is a shift in direction from the traditional hotel venue to industrial style locations, these sorts of venues can be a blank canvas, and couples can go to town on the reception decoration and make it their own. An open space and industrial style venue can give your day a trendy and edgy touch. Edison bulbs with glowing filaments will bathe you and your guests in a warm light, and look incredible suspended beneath joists or grouped together for an urban feel chandelier. If traditional wedding videography is not for you then another upcoming idea is the stop-motion pictures which gives you more of an animate touch than photographs and videography and will look perfect in industrial locations.
Brides this year are going to enjoy a diverse combination of urban and vintage with decor pieces like coloured crystal, vintage cut glass, geometric forms, concrete and copper touches in the shape of industrial looking metallic colour palettes. Adding a bit of vintage nostalgia to your big day with statement piece candelabras with rich coloured candles, and if you are a couple looking to add a splash of colour then you can infuse them throughout the reception and it will make a real design statement, they will add something unexpected to your décor and this is an effortless way of adding a touch of the unanticipated to your design. Gorgeous geodes and crystals are glistening natural minerals that make a beautiful pairing, and elegant details of natural organic elements that are going to be huge in 2018. Geode wedding cakes filled with crystal formations, agate slice place names, these stunning rocks will be naturally staged in any wedding, like The Witching Hour, Boho Chic, Geometric or the new Woody.
Your wedding stationery does not merely convey the facts of your wedding to your family and friends, it signifies who you are as a couple and sets the impression of your wedding. Are you a couple who wants to surprise your guests from the stationery onwards, then make a statement with some of these ideas for your invitations that go beyond paper. So, integrating diverse textures and textiles into your invitation with luxury silk roses, vinyl records, quirky view master, cute handkerchiefs, or bespoke intricately detailed laser-cut, linear and geometric designs, that are playing a significant role in wedding stationery and you can now add a twist to your invitation with exquisite copper foiling.
Tangible table linens in raw silk, crumpled French linen and luxe draperies like velvet are being mixed into wedding designs with as little or as much as you like, from the simplest velvet ribbon embellishing your bouquet to the button holes for your guests, the bride's shoes and the grooms jacket, to the bold coloured velvet runners and napkins, bringing an elegant and luxurious edge, opulence and grandeur to your reception.
Floral decorations are now being moved from the reception tables and suspended directly above the tables creating an ethereal ambience. Suspended lighting and other interesting objects such as umbrellas will become popular as well and will add a unique touch to the wedding decor and be an enjoyable surprise for your guests. Florae and foliage can create an impressive backdrop to your reception venue, and will present more space on your tables for you to place candles and other centre pieces, but, if you still want to have a floral arrangement on your tables then think about wreaths, wreaths are not just for Christmas they are becoming a fashionable alternate embellishment for weddings through all seasons, wild flowers, wispy grasses and sweet smelling eucalyptus will have your guests captivated by your contemporary flower arrangement that runs the full length of the reception table. For ceremony décor outside, transforming the aisle for the bride to walk down, into a garden that pays tribute to the quintessential English garden using potted plants covered in silk textiles bringing a harmonious design that merges with the natural environment for your outdoor ceremony. Remember the 2017 floral walls and centrepieces, they are out and romantic Botanical wedding ceremony backdrops with all green decor and just a hint of neutral florae are in for 2018.
For those picture-perfect moments to look back at in your wedding album, instead of using beautiful floral arches of yester year they have been given a transformation in 2018 into fabulous circular floral and crescent moon arrangements, a wedding background that borders rather than conceals your venue's stunning surroundings and can be used as a Instagram worthwhile photo op. And not forgetting your bouquet and floral arrangements, florists have now introduced Gypsophila otherwise known as baby's breath and are taking a step to use more greenery and less blooms for a free-form natural, garden looking arrangements with the flowers being bold and eclectic with moody blues, burgundy and magenta rather than the pastels of 2017. If you love the idea of having flowers in your hair for your wedding then there is an alternative to the flower crown that comes in the shape of a tiara, the flower tiara is not as heavy and a subtler adornment that will beautifully tie in with your bouquet without taking away from your look. Also, flower wristlets are a petite and delicate update to the long-established corsage.
New colour palettes for 2018, Pantone colour of the year is Ultra Violet purple, a deep blue-based purple that symbolises nobility and luxury and is very opulent, if you want to be diverse then begin with an established palette of neutral textures and earthy tones and then become spirited with bolder with brighter and intense tones like berry-infused purples, ultra violet, pinks, wine, lilac, lavender, mauve, teal, forest green, burgundy, blues and bright yellow, mustard tones. Also featuring in 2018 is a monochromatic twist of black accents that can be incorporated into your wedding, it will enhance the drama of your day, brides can take inspiration from Vera Wang and Reem Acra's 2018 Spring collections, a thought-provoking black wedding dress were the bride can showcase her personality, black linens, berry-red candles, gilt features and delectable black frosted cake, this style is being called The Witching Hour and it perfectly describes the somewhat dusky, enchanting and non-traditional colour palette.
There is an evolving wedding movement towards weekend long weddings, when your special occasion demands an opportunity for friends and family to extend the celebrations and create a weekend of festivity, but the crucial component to planning a weekend-long wedding, is the venue able to accommodate a wedding weekend, you want a venue that is completely on board with your proposal. Another trend that is growing fast are after-parties, the after-party is going strong and is deemed a significant part of the day, with emphasis placed on surprising your guests with entertainment being revealed later in the day, from chill-out lounges to midnight raves. Couples are now thinking about how they can keep the party going all night long, they are no longer an after-thought and are becoming an essential part of the wedding entertainment. This now means that couples can include late night speciality food and drink stations, changing into more casual clothing or relocating to a different location, this will keep your guests entertained. Couples are looking to treat their guests to an itinerary of activities covering the whole weekend rather than trying to pack the whole thing into just one day. Destination weddings are perfect for a weekend long wedding celebration, couples choosing destination weddings are more select when it comes to the guest list, their intention is to create an atmosphere that is peaceful, offering the guests a serene environment for the weekend while enjoying the wedding festivities and embracing the local culture, traditions and customs.
At the end of the day as with most trends it is essential not to go overboard, just remember that it is your wedding day, and the end goal is for it to be a wedding that you will enjoy. Do your utmost to strike a balance with ideas that mirror your individuality and preserve the traditional foundations that keep everything grounded. Understanding cohesion between the two will guarantee that your wedding will be a great success.
---