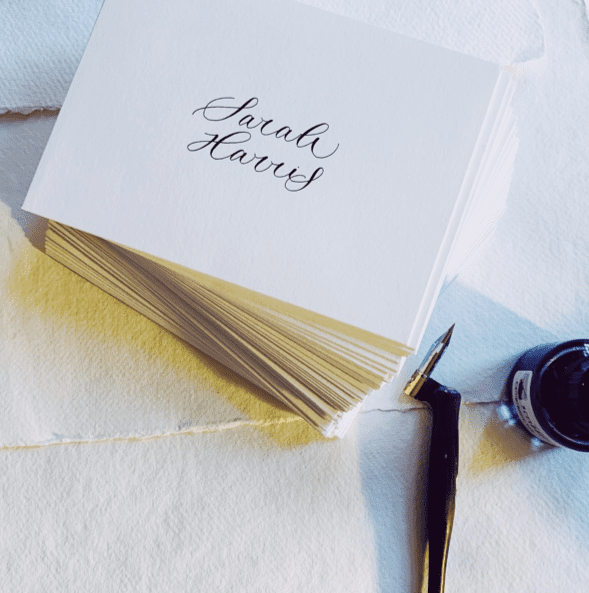 The Art of Calligraphy
Calligraphy is identified for it's elegance and unique art form commonly practiced for private purposes and special documentation. This is not only a recent trend, with Western calligraphy originating more than 2,500 years ago, the scripture style of writing lends itself to the Latin alphabet and its development through the ages. Classical calligraphy, also known as copperplate and spencerian script, is renowned for its precision and control; this would be typically seen in old bibles, poetry and official documents. In the 19th century, the revival of calligraphy introduced the Modern era, displaying a less restrictive style with visibly attractive imperfections. It's flexibility in the formation of the letters, presented a fun and whimsical look encouraging artists to be inventive with their style. With this new found approach giving a more expressive and softened look, the desire for it to be applied to wedding stationery became very sought after.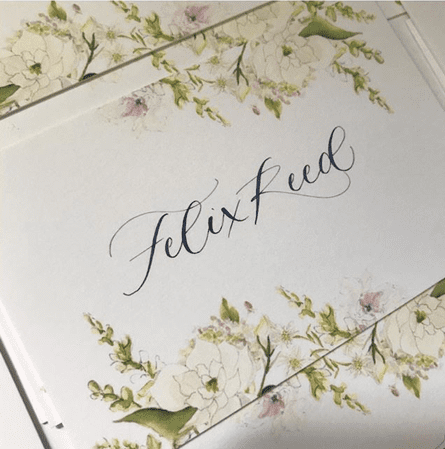 Photo credit: The Styled Writing Co. and Natalie Spencer
As a way of enhancing the intimate styling details of an event, lavish calligraphy of guest names or a fun addition of a beautifully hand painted map revealing venue names and local interests, will ensure to create a sense of sophistication to your wedding stationery. As the invitation will provide guests with their first visual impressions, it is important for this item to communicate and reflect the overall look and feel of the event itself. Invitation wording can play a big part in this, with different customs and etiquettes guiding the format and content of the text. Calligraphy is regularly used to enhance the aesthetic of an invitation by embellishing names and using the scripture to suggest the level of formality of the event, whether it be classic, formal or casual, for example. It is also frequently used in conjunction with illustrations, combining the decorativeness of the text along with the beautiful bespoke drawings of monograms, florals, wedding venues and maps.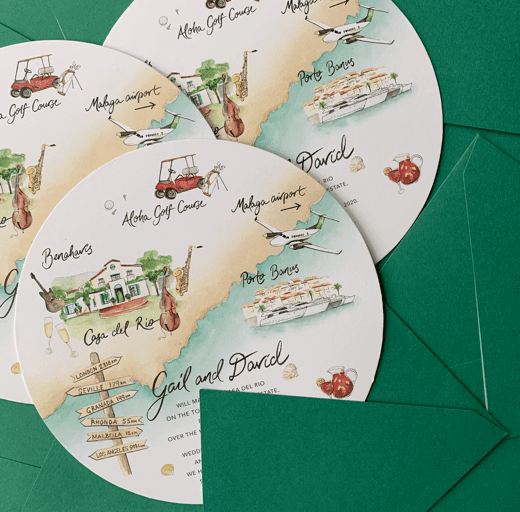 Photo credit: Natalie Spencer
Having the technology to now digitize artwork, this allows graphic designers and engaged couples to incorporate both illustration and calligraphy on further elements of their event, creating a continuity throughout for guests to recognize and admire. From neatly addressed envelopes, to eye catching menus, customized gobo lighting and distinctive favours, the possibilities are endless.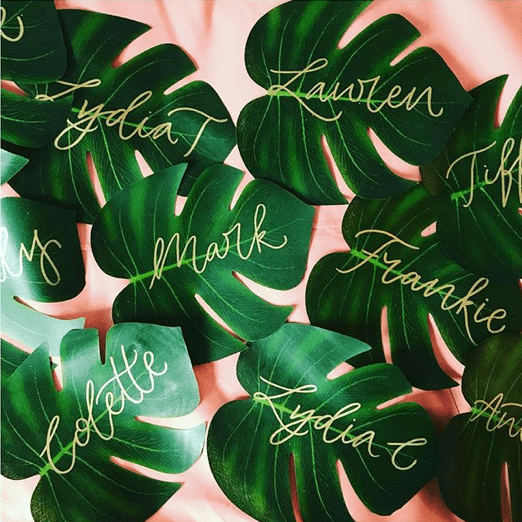 Photo credit: The Styled Writing Co.
As luxury event planners, we greatly appreciate the history, craftsmanship and time which goes into producing these stunning pieces and therefore pride ourselves in working with the best in the business.
The Styled Writing Company offer a smart and stylish service, producing gorgeous lettering on every variety of stationery. Their ability to use calligraphy as a form of expression can bring to life every item they touch with a personal twist.
Illustration brings colour and personality to a piece of paper, whether it be a delicate rose bud on a placecard or stunning watercolour painting of the main wedding venue. Natalie Spencer creates stand out illustrations, working with couples to design decorative pieces of stationery. Exquisite pieces of art whilst offering couples bespoke keepsakes created by hand.
Take a look at some of their beautiful pieces of work, by following the links below:
https://www.instagram.com/thestyledwritingco
http://www.nataliespencer.co.uk
Next month, we will look at Chinese calligraphy and traditions.
---