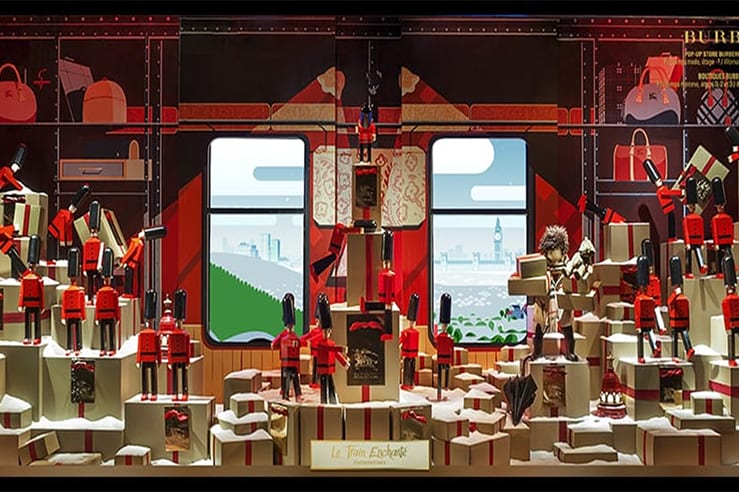 The Spirit of Winter
Thousands of people flock each year to see New York City's festive window displays from Tiffany & Co to Bergdorf Goodman's. Tiffany & Co's Fifth Avenue flagship's store in New York, has a seasonal window display and this year it is called "Believe in Dreams", which highlights a sequence of lively set-ups that give tribute to the renowned visual artist Gene Moore's retrospectives in the 1960s. Each of the Tiffany's windows introduce their iconic jewellery collections, one window showcases a holiday hero, the next window is a robot constructed with the famous Tiffany blue boxes in an icy snow scene, another window displays ginger breadmen with presentations of holiday jewels and gifts, the next is a magical pipeline with white mice running along with more exclusive holiday gifts, all presented around the iconic Tiffany Blue.
Louis Vuitton's Fifth Avenue store windows are festively decorated with illustrative trees from around the world that are decked with impressive festive embellishments, palm trees, bonsai trees and Joshua trees are liberally adorned with Christmas ornaments, light heartedly depicting customs from around the world, from a Mexican piñata to bright red glittering Chinese lucky cats displayed with the brand's high-end merchandise. Macy's in Philadelphia has a traditional festive window scene, that is complete with "Sunny the Snow Pal" a space-age snow girl and her friends who are trying to save Christmas and make sure Santa gets to all the children on Christmas Eve, these snow studded windows are a tale of family and friendship.
Bloomingdales in New York has been inspired by Dr Seuss's holiday classic, the new animated movie "The Grinch", with interactive features which consist of a karaoke machine, and a selfie with the Grinch, there are windows displaying the Grinch's pipe organ and his telescope where he keeps his eye on Whoville, the story unfolds with each window from dwelling in his cave to joining the Christmas festivities in Whoville. Bergdorf Goodman's 5th Avenue windows are treating customers to otherworldly scenes full of golden delicacies, confectionary creations and delicious candies, sculptures of cotton candy, antique chocolates and peppermint hot chocolate, "The Theatre of Dreams" Christmas holiday display at their flagship store is a nod to the greatness of the Broadway stage, these windows are completely awe inspiring in this holiday season.
Printemps in Paris has several of the sweetest festive windows this year, with Jules and Violette two little hero's travelling across magical lands, an ice covered valley with silver bears, pastures open to the blustery weather, a beautiful land of pink roses and butterflies and a land of treats with homemade biscuits that will enchant the children. There are golden ladders climbing to the clouds throughout the store as the two heroes Jules and Violette try to find Father Christmas. Galeries Lafayette in Paris is one of France's iconic stores and this year the window displays are filled with toys, and gifts from the stores clothing and foot wear collections, and in keeping with tradition they have spectacular decorations, animated figures, magical scenery, whimsical and ethereal displays that appeal to children and adults alike, where everyone can discover the delights of these enchanting and magical window displays. Van Cleef & Arpels, celebrated jewellers present their 2019 jewellery collection Les Quatres Contes de Grimm which is inspired by the famous Brothers Grimm fables, characters and scenes from Grimm's tales are depicted in each window, from The Twelve Dancing Princesses to The Three Feathers, the window displays are a festival of colour within a theatrical world.
A few fun facts about the Christmas season, Christmas as we know it was a Victorian concept from the 1860's and is celebrated around the world, our present Christmas is a creation of hundreds of years of nonspiritual and spiritual traditions from across the globe and many holiday traditions started many centuries before, for example in Norway the origin of the Yule log, it was used by the ancient Norse in their celebration of the winter solstice, when the sun returned to the land. Trimming evergreen trees has always been part of the German winter solstice custom and the first Christmas trees appeared in the early 17th century, in the 1820's German settlers decorated Christmas trees in Pennsylvania and when Prince Albert married Queen Victoria, he brought a Christmas tree from Germany and the tradition started in England of decorating a tree at Christmas. In 1828 Joel Poinsett an American minister brought a red and green plant from Mexico back to America, and people thought that its colouring was ideal for the Christmas holiday, the plant was called a poinsettia after Joel Poinsett and they are now a traditional festive plant for the Christmas holidays. An English gentleman called John Calcott Horsley lent a hand in commercialising the practise of mailing Christmas greeting cards when he made cards showing festive scenes with a pre written greetings in the late 1830s. Celtics had long thought mistletoe had magic powers and the aptitude to cure lesions and enhance fertility, so the Celts dangled mistletoe from the ceilings in their roundhouses in order to ward off evil spirits and bring good luck, and in Victorian society they would hang sprigs of mistletoe in doorways and if somebody was standing beneath the mistletoe they would be kissed. The plum pudding is an English dish from the Middle Ages it consisted of suet, flour, sugar, raisins, nuts and spices all fastened loosely in a rag and stewed until the ingredients are "plum" which meant they were bloated sufficiently to fill the rag, it was then taken out and sliced like cake with cream. Carolling came about when roaming musicians would journey from town to town calling on castles and families of the wealthy and in return for their recital the musicians anticipated they would take delivery of a hot meal or some money.
In England and the USA children hang their stockings at the end of their beds or on the mantel of their fireplace on Christmas Eve, eager that their stockings will be filled full of treats when they are asleep by Santa Claus, in Scandinavia they leave their shoes on the hearth, a tradition that has been conveyed down the centuries from the time of Saint Nicholas, legend says that three unfortunate sisters could not marry because they had no dowry, so Saint Nicholas left each of them a gift of a gold coin and that one fell down their chimney into a pair of shoes that were on the hearth and the other two coins went through a window and fell in a pair of stockings that had been left hanging next to the fire place. Christmas is called Noel in France and comes from the expression les bonnes nouvelles which means "the good news", in the south of France there is a custom where they burn a log in their fire places from Christmas Eve till New Year's Day, an age-old tradition were farmers used part of the log to bring good luck for the next year's harvest and in the Ukrainian they make a traditional twelve course feast, while the family's youngest child stares out of the window waiting for the evening star to appear and when it appears that would be the sign for the feast to begin.
Credits Courtesy of Claridge's, Courtesy of Gleneagles, Courtesy of Harrods, Courtesy of Printemps, Wikimedia
---